Jewelweed Quilt and a Hand Dyed Disaster
A couple years ago, my mother in law gave me a beautiful stack of fat eighths fabric for my birthday. She had gotten it at the Lancaster Quilt Show. I had had an idea for a quilt block rolling around in my head, and so I brought the fabrics with me on a sewing retreat and began cranking out blocks.  I called it Jewelweed, because that is a pretty flower, and I liked that the blocks were kind of jewel like, with all the butterflies around them like they were flowers.
I used up EVERY LAST BIT of the butterfly fabric making this. I don't think I have any scraps larger than a half inch. I was definitely sweating by the time I finished the last few blocks – and I had to piece together some of the pieces there at the end.
But, I made it! And I used every last scrap I had to make up the back, which I love as much (more than?!?) the front. And here is a photo of it, new and pure!
And then what happened? I set it on the coffee table next to the couch. As I was watering a plant next to the quilt, a few drops of water got on the quilt. And the dye bled like crazy. From a few drops of water, the dye was suddenly everywhere.
I panicked, called every fabric store in town, found some synthrapol at an art store thanks to a savvy member of my quilt guild, and set to bathing the quilt over and over to try and pull out the dye. I also used dawn dish detergent and some oxi-clean based on internet advice.
I took a picture of the bath full of dye on instagram months ago when the whole disaster happened – this was probably several rinses in. I have never seen fabric bleed like this – it was like they never rinsed out the original dye! Every color was bleeding, not just the reds and blues. The green and turquoise and brown were terrible too.
Luckily (for them) I lost the tag naming the person who dyed the fabric, as I am very amazed at the shoddy quality of their work. I suppose I should have known to pre-wash the fabric, but with fat eighths I was worried about pre-washing those small cuts. And I just forgot.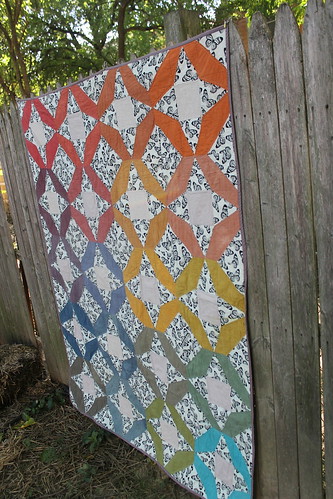 Anyway, here is how the quilt is today. You can't really tell in the photos, but the butterfly fabric is muddy in color with lots of blue splotches.
I might try one more wash and scrubbing with some shout to get out the really bad parts – in particular this turquoise marking on the back. I mean, come on, this quilt has been washed about 15 times at this point.
Speaking of the back, I love the effect of the leftover squares of fabric I had on the back.
I used a Kaffe Fassett shot cotton for one side (the tan) and a bit of organic sheet from Target on the other. As a bit of trivia, the sheet picked up much more dye than the shot cotton.
Anyway, as I learn over and over in life, try the best you can and then count your blessings and get over yourself! There are worse things in the world than some a little color where it shouldn't be! I bound it in this old purple sheet fabric that I have used on several quilts now. It has a satin finish which I can not resist.